For years I have been wanting to make ID's for my Pen & Paper group's Starfinder characters so we're presented as an actual crew. Finally back in December last year I came up with this which sparked my inspiration to draw them.
Now I want to give you a chance to participate in the fun.

You can use them for any Pen & Paper Sci-fi campaigns or for your futuristic characters.


Why Patreon?
As it took a lot of time to create the ID, I decided to make it available to $5 patrons only
If you join my Patreon fam you'll be able to download it from:

Sci-fi ID template post on Patreon
or directly in my discord server when you automatically joins. Besides all the community channels there's also several channels for my Patrons like chat and WIP-reveals for both tiers while finally downloads is exclusively for $5 patrons.
What you get
In the .zip-folder you'll find a .PSD and a guide which explains the different folders but also describes which font I used for the text.

Editable elements:

Personalize the text with things like title, first + last name and occupation or function on a spaceship.
Make your own logo/symbol (placed in the circle)
Insert your finished character portrait(s) within the frame
Change the colour of the portrait background. It doesn't have to be grey.

6 line edge colours to choose from:

My character ID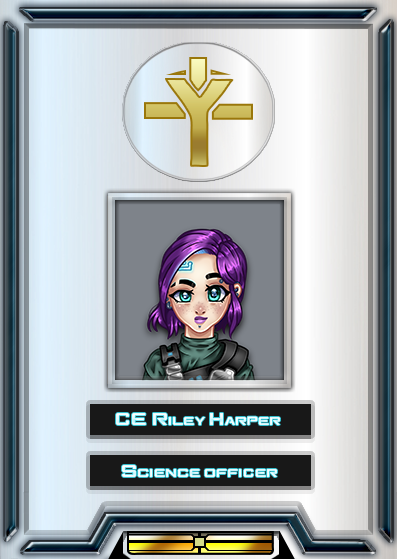 Computer Engineer (CE) Riley Harper
Science Officer on Yulan – my husband's hospital and cargo freighter.

Thank you for checking it out <3 Take care!